In this daily article we read on air pollution causes linked to 3.2 million cases of diabetes in 2016 – study . Here is the article below:
---
Air pollution linked to 3.2 million cases of diabetes in 2016 – study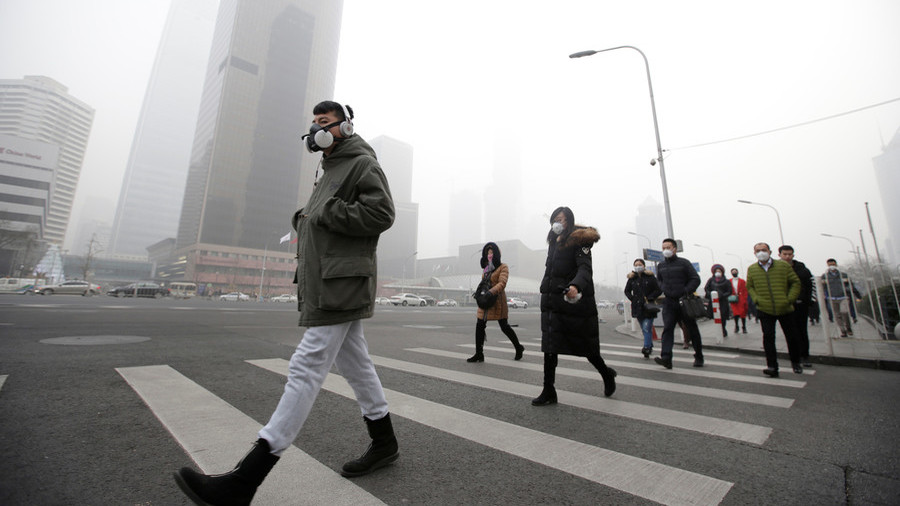 People wearing respiratory protection mask walks in Beijing, China, during heavy smog. © Jason Lee / Reuters
Obesity, poor diets, and sedentary lifestyles are the usual suspects when it comes to diabetes, but a new study says that air pollution is another major cause of the disease, linked to 3.2 million cases a year.
For the study, which is the first to dig deep into the possible link between pollution and diabetes, researchers from the Washington University School of Medicine in St. Louis and the Veterans Affairs (VA) St. Louis Health Care System examined the relationship between particulate matter – airborne microscopic pieces of dust, dirt, soot, and liquid droplets – and diabetes.
They looked at data from 1.7 million US veterans who were followed for a median of 8.5 years, none of whom had a history of diabetes. After accounting for all medically known causes of diabetes and running statistical models, they compared cases of diabetes to particulate matter data. That data was provided by the Environmental Protection Agency's (EPA) land-based air-monitoring systems and space satellites operated by NASA.
After that, they sorted through research related to diabetes and outdoor air pollution, and came up with a model to evaluate diabetes risk across different pollution levels. Lastly, they analyzed data from the annual Global Burden of Disease study, which helped estimate the yearly cases of diabetes and healthy years of life lost due to pollution.
"Our research shows a significant link between air pollution and diabetes globally," Ziyad Al-Aly, the study's senior author and an assistant professor of medicine at Washington University, said in a news release. Pollution is thought to reduce insulin production and trigger inflammation, preventing the body from converting blood glucose into energy.
Al-Aly and his colleagues estimate that pollution contributed to 3.2 million new cases of diabetes globally in 2016, representing about 14 percent of all global diabetes cases that year. They also estimate that 8.2 million years of healthy life were lost in 2016 due to pollution-linked diabetes, representing about 14 percent of all healthy years lost due to diabetes of any cause.
The study also found that the diabetes risk was present even in pollution levels considered safe by the EPA. "This is important because many industry lobbying groups argue that current levels are too stringent and should be relaxed. Evidence shows that current levels are still not sufficiently safe and need to be tightened," Al-Aly said.
While the risk of pollution-induced diabetes is a threat around the world, the researchers found that it is higher in lower-income countries such as India, Afghanistan, Papua New Guinea, and Guyana, which lack clean air policies and resources for environmental mitigation systems.
Al-Aly noted the importance of the study, stressing that although previous research had suggested a possible link between diabetes and pollution, none of those were thorough or conclusive. "We wanted to thread together the pieces for a broader, more solid understanding," he said.
The study was published in the Lancet journal on Friday.
---
So I hoped you like the article - the original link is: https://www.rt.com/news/431363-air-pollution-diabetes-study/
---
Recent Posts
In this daily article we read on Thyroid medications recalled due to risk of impurities . …

In this daily article we read on Cereal killers. Here is the article below:Cereal killers: Mons …

In this daily article we read on Tropical ticks threaten to bring Crimean-Congo fever to German …